StoryBuilt – Class A Corporate Preferred Stock
StoryBuilt is pleased to offer an innovative investment opportunity for institutional and accredited investors for up to $25M in Class A corporate shares. Class A shares are available to accredited investors at $7,500/share with a minimum placement of $50,000 and held for a minimum of three years.
Shareholders are also positioned to participate in any future exit opportunities such as a liquidity event with up to a 25% premium floor.*
$50k minimum investment
6% preferred return + profit share
Profit share begins upon 1 year anniversary, targeting a 10-12% annualized return thereafter
Additional premium floor on exit, up to 25%
Total Projected Return 15-20%+*
*subject to liquidity event
REVENUE STREAMS
Recurring Revenue from Vertically Integrated Property Management:
Property & Community Management (3,000 units and growing – Leasing & HOA's)
Property & Customer Services (1,000's of customers served)
Property & Smart Home Technologies (*50,000 units under contract and growing)
Revenues from Development:
Management Fees such as Design, Acquisition & Development, Construction, Sales & Marketing
Investments such as our GP stake in each Development
Net Operating Income from our GP stake in Rental Assets
For full past performance and future forecast information, contact StoryBuilt and refer to the company's financial model.
CAPITALIZATION PLAN
StoryBuilt is expanding its activities across more markets and combining property management, services, technology with managing developments, and real estate investing. This requires both institutional capital and individual investment to fund our integrated business plan.
Strategically utilizing institutional capital for the intensive real estate development 'Project Equity' bolsters StoryBuilt's enterprise value and future exit opportunity for its Class A and B investors.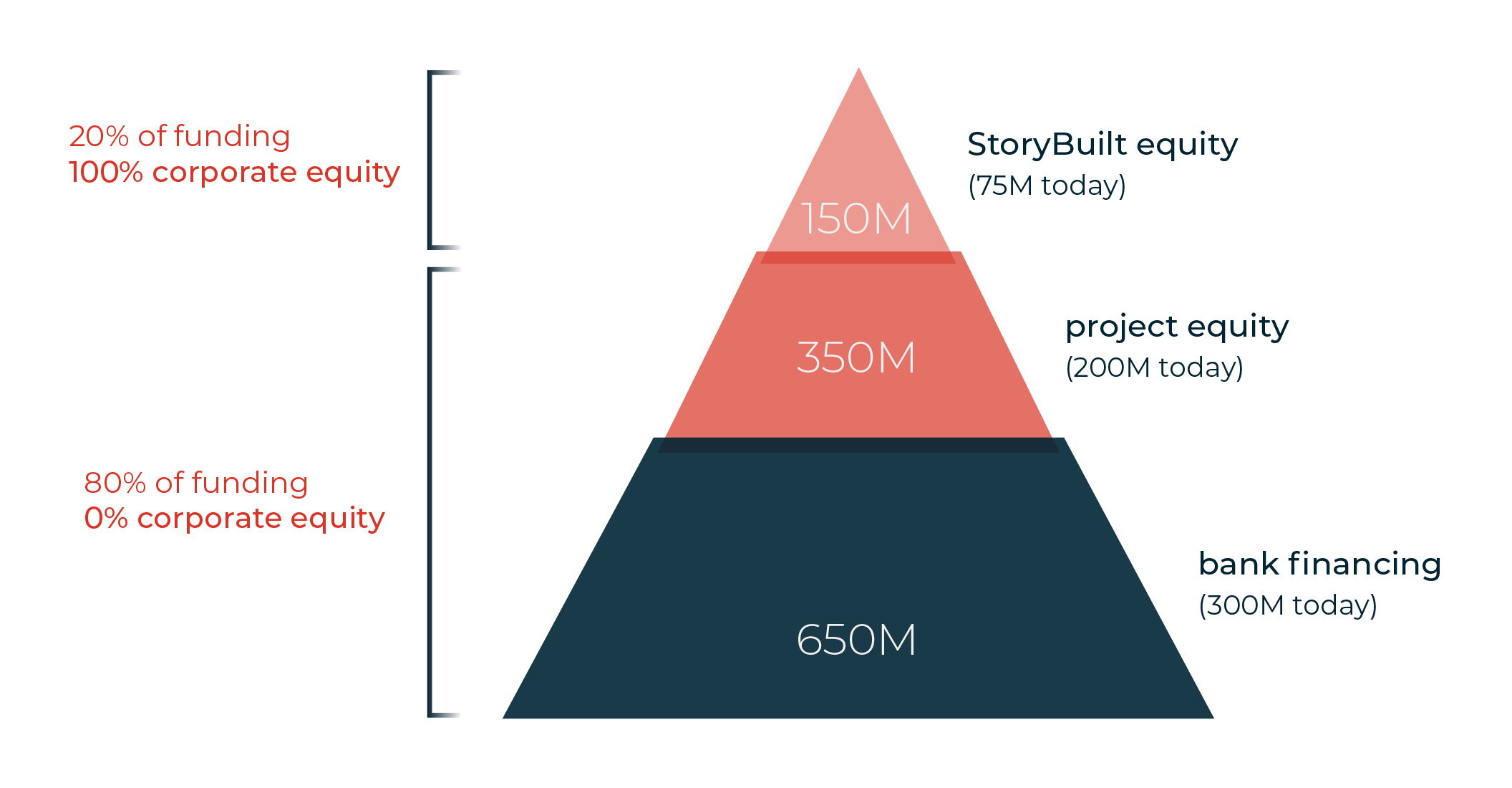 +$1B in funding = $3-4B in pipeline value
Creating a company value of +$2B