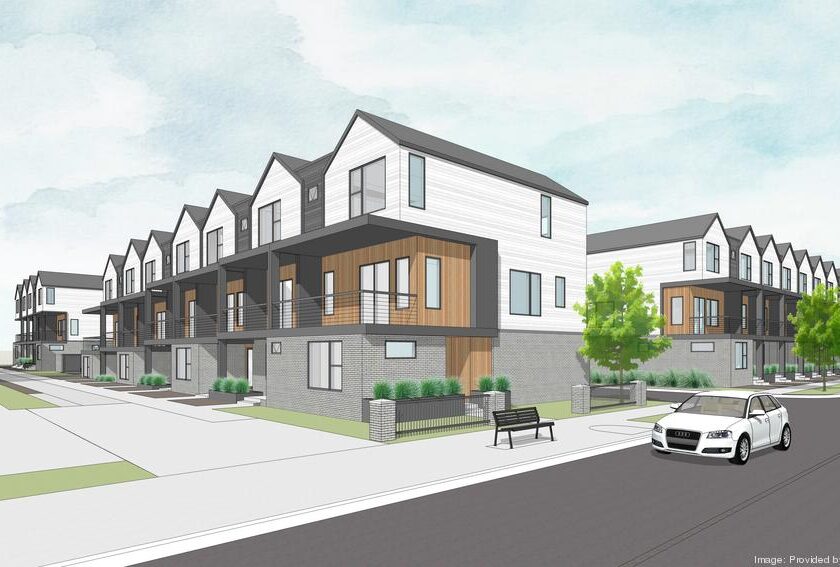 StoryBuilt has plans for 55 new townhomes in Wheat Ridge.
StoryBuilt, an Austin, Texas-based developer that specializes in urban infill, has plans to ramp up several of their Denver projects in 2022.
Much of that development will be spurred by a joint venture with Switzerland-based Partners Group, a leading, global private markets firm. Through the joint venture, first announced in mid-December, Partners Group is investing $1 billion into 17 of StoryBuilt's existing projects, as well as funding future development. StoryBuilt develops in Austin, Dallas, Seattle and Denver.
"As we were expanding into other markets, there was clearly a need for additional capitalization that could grow with us," Christopher Auxier, Denver division president for StoryBuilt, told Denver Business Journal. "Partners Group is an institutional equity partner that has spent a good deal of time getting to know us, truly as a partner and not just as a transaction. This is not a one-off transaction on a project, this is a partnership with a company to recapitalize most of the current portfolio and fund new growth going forward, which gives us that ability to chase bigger projects."
Auxier added that it's very validating having a partner that isn't just investing in one or two specific projects but is investing in the majority of StoryBuilt's existing portfolio.
There are three StoryBuilt projects in Denver currently in development. StoryBuilt, which gives its projects personified names, says Partners Group is investing in two: Archie and Judy.
Archie, located at 2137 Glenarm Place, is a condo project that Auxier anticipates will start in the second quarter of 2023. StoryBuilt is currently in the rezoning process. Details like square footage and unit count are still in flux, Auxier said, but the goal is to add about 94 for-sale units to that area, located on the edge of Arapahoe Square in Five Points.
Judy, at 5785 38th Ave., consists of 55 townhomes in Wheat Ridge.
"What we love about that area is that there is definite momentum from the Sunnyside and Berkeley growth and revitalization over the last several years," Auxier said. "We feel that there is increased demand for new housing products along the West 30th corridor."
He added that the site will also be a mixed-use development — it includes an existing pizza restaurant, Infinitus Pizza Pie (iPIE), that will be kept and accommodated during construction.
The project is expected to start in May 2022 and complete in the fourth quarter of 2024.
In addition to these two projects, there's another Denver project by StoryBuilt underway that does not involve Partners. Ozzie, at 4190 W. Colfax Ave., consists of 83 apartment units at the southeast corner of Raleigh Street and Colfax Avenue, directly across from the Alamo Drafthouse. That project is currently processing its building permits and expects to break ground in the second quarter of 2022. Ozzie will consist of studio and one-bedroom apartments, and rather than ground-floor retail, it will have a ground-floor primary-amenity space to foster community. There will also be a rooftop deck on the five-story building.
All three Denver projects are very different, Auxier said, and that's by design. StoryBuilt doesn't box itself into one specific product type, he said, but instead focuses on great locations in the area around an urban core that have a neighborhood feel to them.
StoryBuilt, which has 160 employees total and four full time in the Denver office, plans to look at other opportunities in Denver and keep developing here.
"Our goal is to be doing at least three new projects per year in the Denver market," Auxier said. "Between three and five per year."