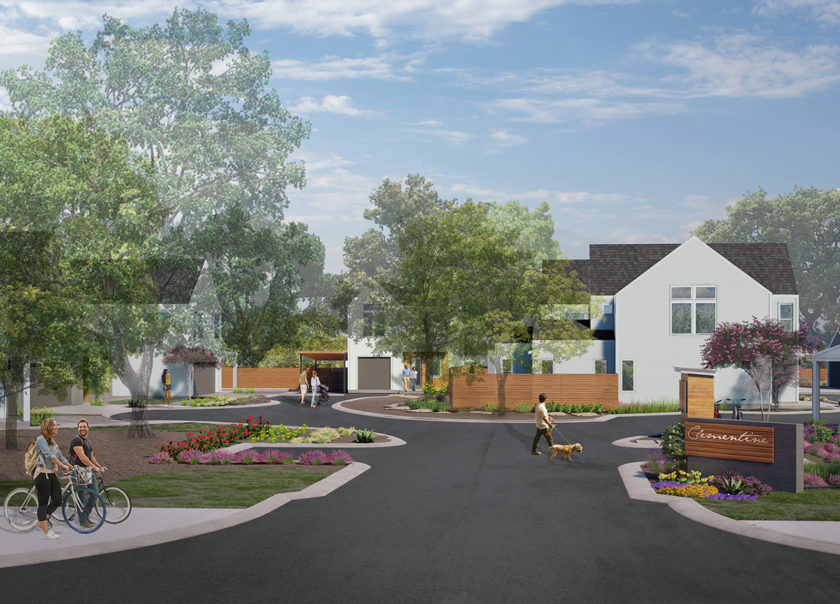 Neighborhoods named after rescues; Clementine the kitten was thrown from car on I-35
StoryBuilt is preparing to kick off its latest single-family community as the Austin area is seeing a record-low supply of housing on the market in part due to the Covid-19 pandemic.
Pre-sales on the 12-home community — dubbed Clementine — in South Austin will begin Aug. 18. The modern farmhouses will be constructed on roughly two acres at 5107 Menchaca Road, south of U.S. Route 290. The houses will be nestled under Heritage oak trees and built along a singular drive. Clementine will have a shared community pool.
"Clementine is all about living where you love, so not only in a house but in a thriving urban environment," said Hank Parker, a StoryBuilt architect and development manager for Clementine.
StoryBuilt went under contract to purchase the property in April 2018, according to the company. The sale closed in fall 2019.
Amid the Covid-19 pandemic, demand for houses is outweighing supply. That's causing prices to rise rapidly in parts of the metro.
Housing inventory in the five-county Austin metro dropped by 0.9 months in June to 1.8 months of inventory, creating an extremely competitive market that is causing the houses that do hit the market to receive multiple offers, according to the latest data from the Austin Board of Realtors. Experts consider about six months of housing inventory to be healthy.
Compared to last year, new listings in the Austin area dropped 5.4% in June to 4,170 and active listings dropped 32% to 5,300.
This has caused the median sale price in the Austin area — $340,000 — to be about 5% higher than a year ago when the economy was booming.
In terms of South Austin, Brian Copland, a real estate agent with Realty Austin, said first-time homebuyers in their mid-to-late 20s are looking to buy move-in-ready houses south of Lady Bird Lake. Low inventory, low interest rates and more buyers have created a perfect storm to drive up prices, he said.
"Myself and multiple Realtors I have spoken with are consistently speaking with buyers moving from out of state from the Northeast and the West Coast," he said. "It is continuing to make a tight market even tighter."
Because they can work from home, more tech workers are moving to Austin because of the more affordable houses, Copland said.
The most in-demand price point for houses is under $600,000, experts said.
Copland said from downtown to William Cannon Drive, there are only 43 single-family houses on the market under $600,000. Only 10 of those were built since 2000. Sales are pending on 64 properties under $600,000 in the same area, and 41 of them were under contract in 10 days.